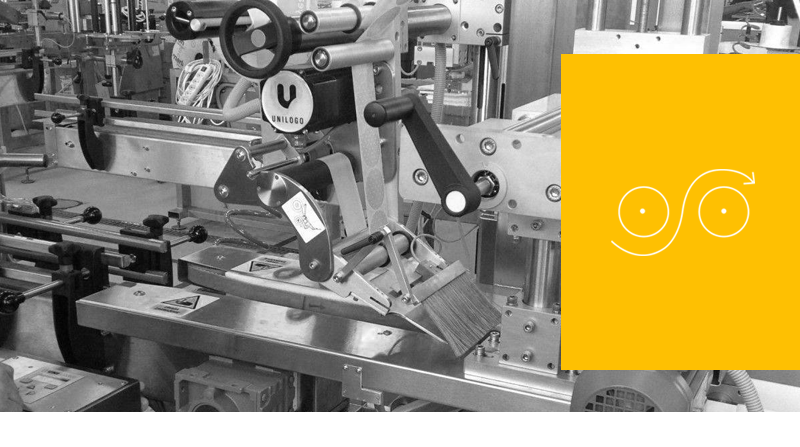 S8 head
A universal label application.
S8 is a universal self-adhesive label applicator.  The machine may be installed in a currently existing production line, or may also be equipped on a conveyor and constitute an independent labelling machine.  For example, the S8 labelling machine is ideal for promotional label application, mainly on flat packages.

The main features and advantages:
It works with any label material.
It may also adhere labels on booklet type or those with braille script.
An ideal solution to complement the existing production line, e.g. to apply promotional labels/stickers (mainly on flat containers)
Universal use:

with the use of the proper stand, it may apply labels in up/down and/or front/back mode.
in conjunction with F25 belts and the conveyor, it labels packages in up and down mode.
when aligned with the Roto labelling machine, it applies labels from above and below, and in wraparound mode.
The S8 head may be installed in any position/orientation.  It may apply labels in the up/down or front/back orientation of the package.  The S8 head is of universal use, e.g. in combination with Roto labelling machine may label up-down (S8) or wraparound (Roto).
The head may be equipped with one of the ready stands which handle the majority of uses:
An up and side labelling stand.  It allows for setting the labelling head in any orientation.
The stand with vertical regulation for labelling sides of packages.  It is intended for the head to be installed for side labelling.
The up/down labelling assembly: side F25 belts.  Upper and/or lower package part labelling assembly with the use of two side belts.
An assembly to label upper package part with conveying belt.  This assembly consists of a conveying belt of 1500 mm length and 400 mm width.
Labelling parameters
The S8 labelling head works with labels of various materials: paper, foil (including transparent) and metal-coated.  It may also adhere labels of the booklet type or those with braille script.
Maximum label width: 160 mm (or 240 mm optionally)
Maximum label length: 300 mm
Label application precision: 0.6 mm
External label roll diameter: 49-76/300 mm or 40–76/400 mm optionally.  In case of rolls of high diameter and weight, the machine may be equipped in an external, motor-powered, unwinding device.
Additional equipment:
The hot-stamping UniData printer:

 

the cheapest print on the market.  The possibility to imprint production date, batch no. and any other text up to 48 characters.
Thermo-transfer print:

 

The CAB module allows for printing complete labels and for editing changeable data.  New labels may also be prepared with the use of this module.
The S8 head may also be equipped with roll wrapping and unwrapping systems powered by an electric motor to increase work efficiency.  Such a solution ensures high efficiency labelling from 10,000 to 20,000 labels per hour.  The main task of the unwrapping system is to reduce tension in the label roll (in case of big and heavy rolls), to protect it from accidental breaking and to ensure the nonstop workflow (with no slowdowns necessary for inserting new label rolls).
CHESZ OTRZYMAĆ WIĘCEJ INFORMACJI
O TYM PRODUKCIE?
Chętnie wyślemy Ci je na maila