Outdated technology is a factor strongly limiting development in industries where the emphasis has been put on the ability to quickly changeover production from one product to another, multi-formatting (works with many types of packaging and closures) and the speed and efficiency of the production process.
Watch the video and see how we have helped other customers to optimize production and maintain the competitiveness of their products.
Visually appealing, distinctive packaging, customization of the product, "personalization" (shorter and shorter production runs, thus shortening product life cycle) – these are all forms of communication with the customer and ways of awarding your product on the shelf, while also creating new challenges related to production.
Manufacturers are fully aware of this and unfortunately, the needs of the market often do not keep pace with obsolete machinery that most companies currently have.
Current technologies have many limitations and can make the production process very inefficient, and when capable of format changeover, often leave production costly and time-consuming.
MODERN PRODUCTION NEEDS:
1. Versatility and functionality
Our lines reduce production downtime by supporting the entire range of products, with different shapes and types of closures: flip-top, push-pull, pump, trigger, twist-off, etc.
The pumping systems used in the Unilogo's pouring-lines work with a very wide range of viscosity and density: 9,000 – 10,000 cP (products ranging from water based, soap, shampoos, hair conditioners, creams, etc.).
This versatility allows our machines to respond more quickly to changing market needs.
2. Robotic bottles unscrambler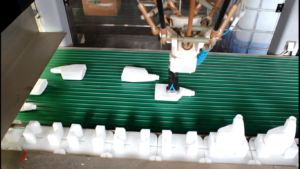 Use of robotic bottles unscramblers in our lines (sorting, turning off) allows for versatility of the production process.
Robotic sorter (Type Delta) and a vision system:
– Sorting of packaging and closures
– Robotic bottle unscrambler is capable of working with different packages
– Detects 3D and 2D objects
Format Nests:
– Easy to adjust and adapt to any shape container
– Ideal positions the package axis during pouring to prevent any
tilting of the packaging (and spillage onto the transporter)
3. Reducing production costs and labor
UNILOGO PRODUCTION LINES:
Universal (one line supports all products):
Support a wide range of product viscosities and densities: 9,000 – 10,000 cP (water, soap, shampoos, hair conditioners, creams, etc.).
Easy and quick changeover to another product without time-consuming whole line setup.
Reduction of operating costs
Easy to operate and changeover – doesn't require highly technical workers
Increased production capacity without increasing plant/factory size and providing non-stop work: optional filling station washing without work interruptionIf you want to see and test one of our lines, please visit us at FACHPACK in NURNBERG, GERMANY: