Client:  a German private-label producer and packager for the cosmetic market:
Professional level hair care products (shampoos, hair dyes and colors, conditioners, supplements, waxes, etc.)  custom labeled for hair salons

Product type: body care (creams and body balms, gel body washes, and soaps)

Check out the videos for the 2 lines that we designed for this client:
Read about the issues the client presented to us and how we helped him with our custom solution.
Product overview:



Very large variety of products (Private Label producer):
 – 40 different bottle shapes and sizes
– Substances with different densities and viscosity: Body lotions, shampoos and conditioners,
and products containing active ingredients such as Hydrogen Peroxide (solution 3%)

– Bottle capacity from 25 ml to 1000 ml
– Viscosity: up to 10 000 cP (for liquids) and up to 30 000 cP (for creams)
– low production batches – in the case of creams – 600-800 pieces per batch

Low economy of production:
20 lines using old technology, adapted to work long series on one package and product

Each production line worked 2-3 days, packaging only 1-2 products, generating tremendous production costs and labor.

A large workforce was required to man the line – and workers were poorly trained which posed the risk of an accident and manufacturing of unsatisfactory products.

Time was wasted during line change over and preparation (2.5 hours of changeover for 30 min production of one short batch series)

High cost of upkeep and production as well as waste of space with numerous machines: the old lines occupied the majority of the warehouse.

Washing and rinsing of system:
The old production lines required extensive cleaning. In particular the dosing system required extensive maintenance as well as complete piston disassembly, washing, and reassembly when dosing a new product. This created a very time consuming and inefficient changeover.

Unilogo's Solution:



Centralized production: We custom developed two dosing lines utilizing the COSMOLINE 40, which were capable of serving all of the clients containers and products rendering his previous production lines obsolete.
Universal – perfect for private-label production:

Ideal for short batch production – fast and easy changeover to another product

capable of filling, capping and labeling EVERY product:
–  format pucks allow for any bottle shape or size


– capable of dosing any type of product: from creams (with viscosity of 30 000 cP) to watery substances (10 000 cP) and even foamy  and active solutions (previously mentioned Hydrogen Peroxide solution 3%)

Capable of cleaning and rinsing without interrupting production:

In the case of filling creams – we developed an external and mobile container that was quick and easy to disconnect, and send to cleaning, while quickly being replaced by a second mobile container, filled with the next product to be dosed.


In the case of filling liquids – we utilized a filling and cleaning cycle. This ensured constant uninterrupted production – 3 nozzles dose a product, while 3 nozzles are cleaning. This design allows production to continue.

Quick and easy changeover of the line:

Lower production cost: time and labor required from technical personnel.


Lowered risk of accidents – production is automated and requires little training while line changeover is easy and intuitive.
[/su_table]
Contact Us!
……………………………………………………………………..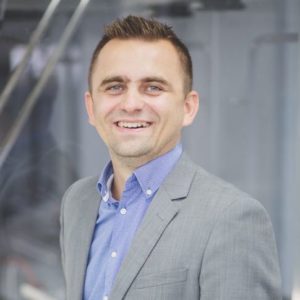 Call or write. Share your production problems with us – we'll provide free consultation!
Adam Dybaś
Key Account Manager
tel: +48 697 180 380
email: adam.dybas@unilogo.com.pl