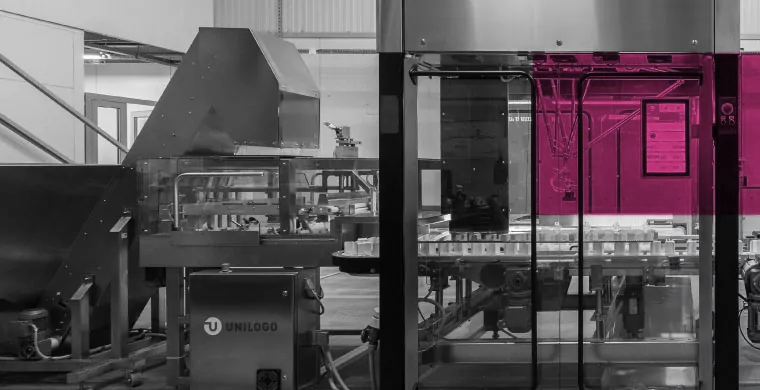 Service & Support
Service and after-sales.
In order to improve our after-sales and service, we have decided to collect all the applications via the form below and register them automatically in our system. All applications sent to us create a list of tasks for our consultants and technicians. The order in which they are performed is determined by the time of the application, the age of the machine (warranty period) and the terms and conditions recorded in service contracts. Each application is given an individual number and all information related to it is stored in one place – it is very important that each problem is sent to us as a separate application. Information provided by phone or by email (to an address other than serwis@unilogo.com.pl) is not recorded in our database. Therefore, we are not able to provide a fast and efficient service unless the form is filled out and registered in our system.
FREQUENTLY ASKED QUESTIONS
How can I report a problem with the device?
All reports must be submitted in writing using the form available in the box opposite. Each submission should only concern one case / malfunction / question. At the same time, we would like to inform you that reporting a problem by phone is not recorded in the system and therefore we cannot deal with it.
I've already sent a report to a different email address. Will this not suffice?
We are very keen to receive information by the quickest route, i.e. directly from customers, without unnecessary disruption. Our system is prepared to register and manage requests sent directly by customers using the form. Unfortunately, we do not have the possibility to redirect messages internally. Therefore, if a request was sent by email to another department within our company, we will have to ask for the filling in of the form.
What details must my report contain?
The report must contain the following information:
the serial number of the machine

a description of the malfunction

the expected method of reaction / help (dispatch of parts, remote assistance, the arrival of a technician).
Photos and videos showing the problem are also very helpful, thanks to them we are able to react much faster.
Why are reports only accepted in writing?
We are continuously striving to streamline our after-sales support operations. Reports submitted by the registration form are automatically registered in our system and placed in a report queue to be processed in the order we receive them. Each report is assigned a unique identifier number and all the relevant information relating to it is stored in one place. Thanks to this, we are able to ensure that each application meets our response in the shortest time possible.
I received an email with confirmation. What does this mean?
This is an automatically generated email and it confirms that we have received your report and that it is already in the queue to be processed. The confirmation email contains the unique identifier case number that has been assigned to your report. We use this number in all further correspondence to quickly find information about a given issue.
Should I reply to the confirmation email?
No, we'd appreciate it if you'd hold on until the first contact with us. Once you receive the next email from us, communication between us can be continued by using the "reply" function. This will ensure that all the information concerning the report will be located in one place and that it is always easy to find.
When can we expect to get a response to the report submitted by us?
For devices under warranty, the reaction time is determined individually. The approach that is taken depends on the purchase and sale contract for the specific machine.
However, if you have submitted a report relating to a device that is not under warranty or a customer service agreement, we will respond as soon as possible. We will usually get in touch with you within three working days, the majority of cases are successfully resolved within ten working days. However, this may take more time when the report concerns a device which is over five years old or the issue is so complex that more time than usual is required to find a solution.
How does the Unilogo Robotics Service & Support work?
Unilogo Robotics Service & Support relies on the cooperation of two dynamic departments: Commissioning and After-Sales Support, which comprises a 20-person-strong team. All are based in our Head Office in the town of Piaseczno, central Poland (Mazovian Voivodeship).
The Commissioning Department is responsible for the fine-tuning of new machines before they leave our factory and preparing them for FATs and SATs.
The After-Sales Support Department provides after-sales support in the broadest sense, which include warranty and post-warranty services as well as spare parts sales and format elements, including retrofitting.
What is the Service & Support working hours?
We usually work from Monday to Friday, from 8 am to 4 pm except for non-working days and public holidays in Poland.
Who is going to contact me?
The first contact will be made by one of our Technical Support Specialists. At this stage, we will analyse your report and assign it a relevant category and priority. Next, we will go on to suggest a solution, present our offer and make the necessary arrangements with regard to setting the date of a visit / remote support.
When can I expect the Service Technician to arrive?
We will do our best to get in touch with you regarding the reported technical problems within a period of no more than 72 working hours from the moment we receive your report (filling the form) . If we can diagnose the malfunction or problem by phone, the repairs usually take no longer than five working days. If the nature of the problem requires a Service Technician to visit, this period may be extended by another five working days.
Can you send a Service Technician immediately?
This depends on how tight our schedules are. Most Reports can be successfully resolved remotely. However, should a Service Technician visit be necessary, we will need additional information before the visit is arranged. This allows us to assign a suitable specialist responsible for your issue and for them to prepare the necessary tools to fix the malfunction. If the schedule allows, we will send you a technician the next day.
What is the cost of the service?
If the device is still under warranty and the request for a visit was justified, the service is free of charge. Should it turn out that the malfunction results from the incorrect use of the machine or from mechanical damage then the fee is based on rates subject to the current and binding price list.
After the end of the warranty term, the cost of parts and any service visit(s) are calculated individually. Once we have become familiarised with the problem, we will present you with a detailed price offer.
Can I report issues directly to a Service Technician if I have their contact details?
Unfortunately not, reports submitted directly to a Service Technician are not registered in the system.
I have a Unilogo machine and I need a copy of the documentation. Can you prepare it for me?
Yes, of course. We can provide you with an electronic copy of the documentation in PDF format for a fee. The documentation in its original form may no longer be available for machines more than five years old. Should this be the case, we will prepare new certificates based on the available documentation of machines in the same assortment group.
I have a Unilogo machine and I need help in production start-up with a new component (labelling, bottling, closing, fluids). Can you help me with this?
Yes, of course. We can prepare a paid analysis of the new project (approximately four hours), offer to perform tests (tests on similar machines in our head office) as well as offer support and assistance in starting up the target production.