Automatic dosing lines serve wide range of liquid products from cosmetic field, chemical industry or household applications. Pouring lines produced by us are intended for dosing the products with various degrees of viscosity and density. One of advantages of our devices is broad range of a dose and high flexibility. Dosing is performed by means of flow meters (mass flow meters, electromagnetic ones) or by volumetric method (piston-based). Lines are equipped with dose control systems and filling nozzle with servomotor, pouring the fluid just under the liquid table if necessary, preventing product foaming. Dosing line can be equipped with different types of add-ons, including automatic packaging and cap sorters, carton box packaging machines and palletizers.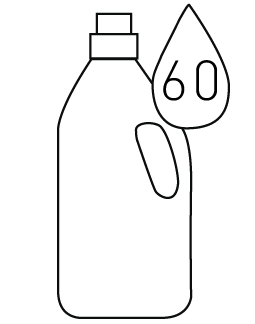 FUTUREPROOF 60
Robotised sorting, dosing, capping and labelling line for liquid products.
FUTUREPROOF 60
Productivity: ~ 50-60 pcs./min.
Automatic sorting of packages from hopper and feeding into puck system provides 20% higher productivity than manual labour.
Dosing by flow-meters – up to eight filling stations.
Works with every type of package and closure, by means of 3D printed format parts..