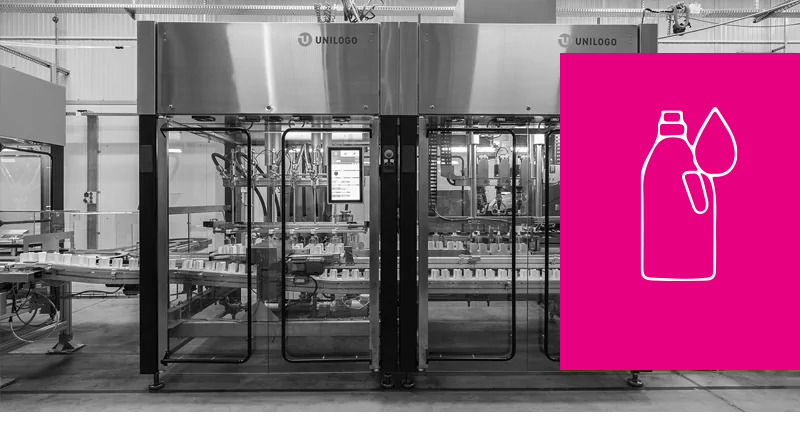 Futureproof 60
Robotised sorting, dosing, capping and labelling line for liquid products.
USAGE: PERSONAL CARE, HOUSEHOLD AND CHEMICAL INDUSTRY
Flexible, innovative robotized production line, designed to meet Your expectations for short changeover, reliable operation with productivity of 60 pcs / min. Our line has minimal number of format parts.
Process of sorting, filling and capping is fully automatic. Any bottle and cap shape can be used.
Our technology meets current market requirements e.g. the need for short production batches and frequent format change parts.
Unilogo concentrates on universal and flexible solutions: filling and capping adjusted to product specifications in automatic packaging lines as well as quick changeover labelling machines.

THE MAIN FEATURES AND ADVANTAGES:
The robotised dosing line is useful for a wide range of soaps, shampoos, emulsions, household and chemical product. 
Any shape of packaging and closure can be used, with fast changeover even short production runs can be achieved.
Productivity: ~ 50-60 pcs./min.
Fast and easy toolless changeover to another product (20 – 30 min).
Automatic pucks changeover.
Automatic sorting of packages from hopper and feeding into puck system provides 20% higher productivity than manual labour.
Dosing by flow-meters – up to eight filling stations.
Self-learning and dose tracking system guarantees filling accuracy and a high quality end product.
Integrated CIP procedure gives the opportunity to make cleaning faster and without unnecessary breakdowns.
Automatic sorting of closures from hopper.
Closure presence and quality verification system.
Works with every type of package and closure, by means of 3D printed format parts.


Futureproof 60 is designed for an automatic, flexible production without many changeover parts. Production can be changed in less than 20 – 30 minutes and without special tools. The line works with any type of package and closure, thanks to 3D printed toolless format parts. Delta robot provides a productivity of 60 pcs/min.

Dosing
Dosing by means of flow-meters – up to ten filling stations.

LABELLING
FUTUREPROOF DUO ROTO – a universal, automatic labelling machine for labelling flat and elliptical packages (front/back) as well as circular types. It works well with various sorts of labels: transparent or non-transparent, on PE or PP foil. Mechanical coupling of the main transporter with the lower one stabilises the package and prevents it from reclining in the line while being labeled. Labelling heads are set for an easy changeover and an automatic switch.

Capping
Capping machines for any type of closure: cosmetic pumps, sprays/triggers, flip-tops, push-pull closures.
CAPPER Z11
Robotic capper with up to four servo driven heads.

SORTING
Delta robots connected to the vision system. Hopper with return loop for unused components.
DO YOU REQUIRE A QUOTE OR A CONSULTATION?
We are more than happy to send further details to you by e-mail